Music at Church of the Dunes
Come let us sing for joy to the Lord; let us shout aloud to the Rock of our salvation. Psalm 95:1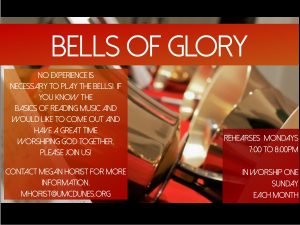 Adult Bell Choir
Rehearsals: Tuesdays, 7:15 p.m.,  mid-September – May
Plays for worship: about once per month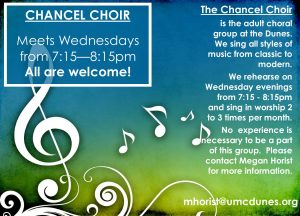 Adult Choir
Rehearsals: Wednesdays, 7:00 p.m., mid-September – early June
Sings for worship: about two Sundays each month, and for special services throughout the singing season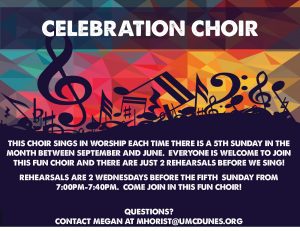 Adult "Occasional" Choir
Ideal for those who would like to sing, but are not able to commit to weekly rehearsals. 
Sings for worship: 4 – 5 times per year
Dunes Music Education Fund
Solo and small groups of singers and/or instrumentalists are an important part of special worship services and on Sundays during the summertime. Please speak to the Director of Worship Arts if you are interested in sharing your gifts.